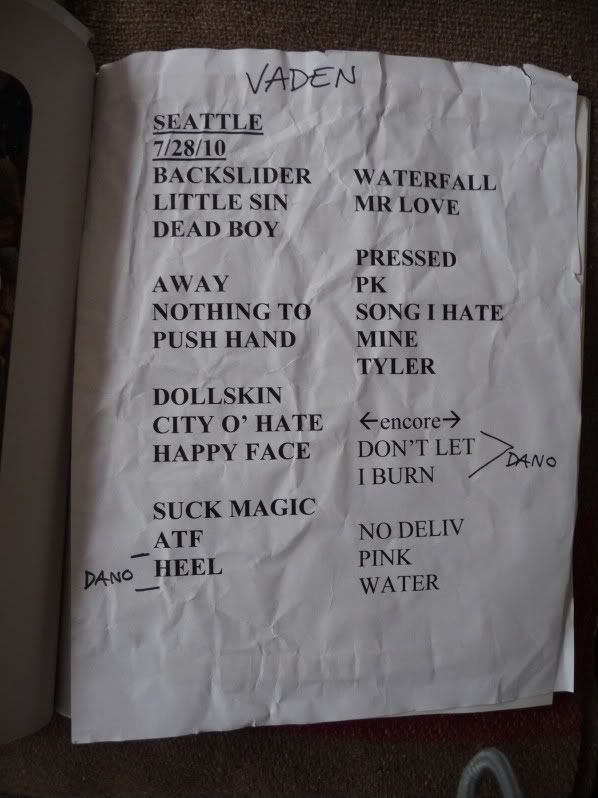 Seattle was brutal. I am covered in bruises, and if my right knee doesnt stop hurting in a few days, i'm pretty sure its damaged..
1. The crowd was
overly
aggro.
2. Someone yelled out for TYLER, two songs after they had played it. Really??
3. I'm not sure if it mightve been that drunk girl.
4. To the drunk girls husband, who I told to fuck himself, you cant expect your wife to beat up on people and for her not to get attacked. Be it by males or females.
I wouldve elbowed her in the face right into her nose, but i wasnt about to get kicked out of the show.
5.
Awesome show. A lot of fun. I LOVE Seattle.
==
I got some grief by some fans because i planned on nabbing the setlist. Yes I have many, but I really treasure those sheets of paper.
I'll only say that there is a reason i get the set, and they end up empty handed.
If they really really wanted it, they would have it. I obviously
REALLY
wanted it, so I got it..
More pictures to be posted soon.
For the record,
I love the fanbase.
I'm just an asshole.
It was real cool to see a lot of people from years past and to be recognized by fellow fans.
I asked one how they could tell it was me, "You were in the same spot last year, right at the front of the stage"
I met fans who named their son after Vaden. Their kids after songs.Fans who drove to cities they HATED just to see the band. I cant wait for the next record and tour.